All the tourists visiting London may clamour over Harrods, but everyone that has set foot at Selfridges's flagship store in Oxford Street knows where it's really at. Who needs tabloid stories about the owners when you have an iTV series about its founder. (Check it out on Netflix!)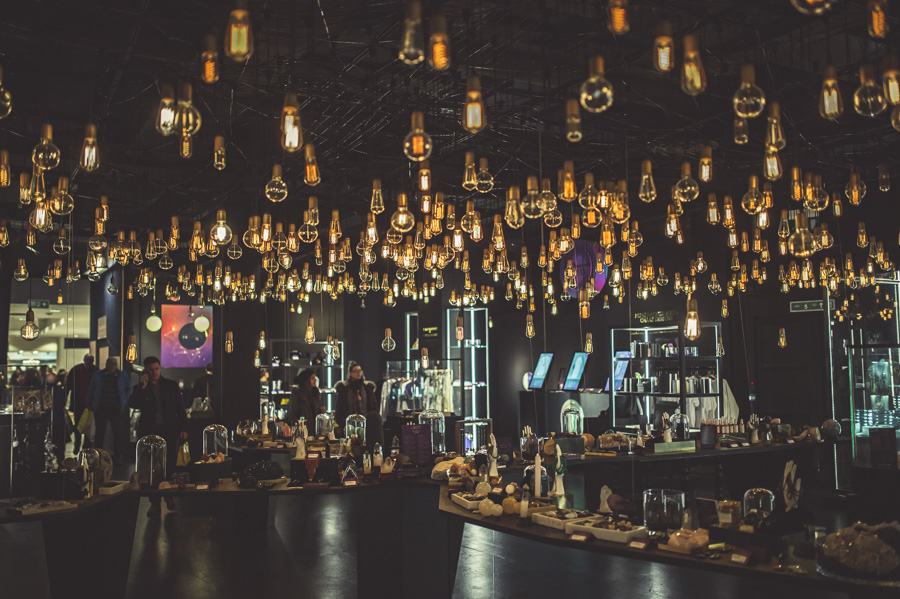 When the Apple Watch first appeared, it was only available for testing in store a full month before people where able to order one online. One of those places was the Wonder Room at Selfridges. Especially unique was the ability to try the most infamous Apple Watch of all: the 24 carat gold 10.000 euro Apple Watch Edition. But what makes this Selfridges experience so special?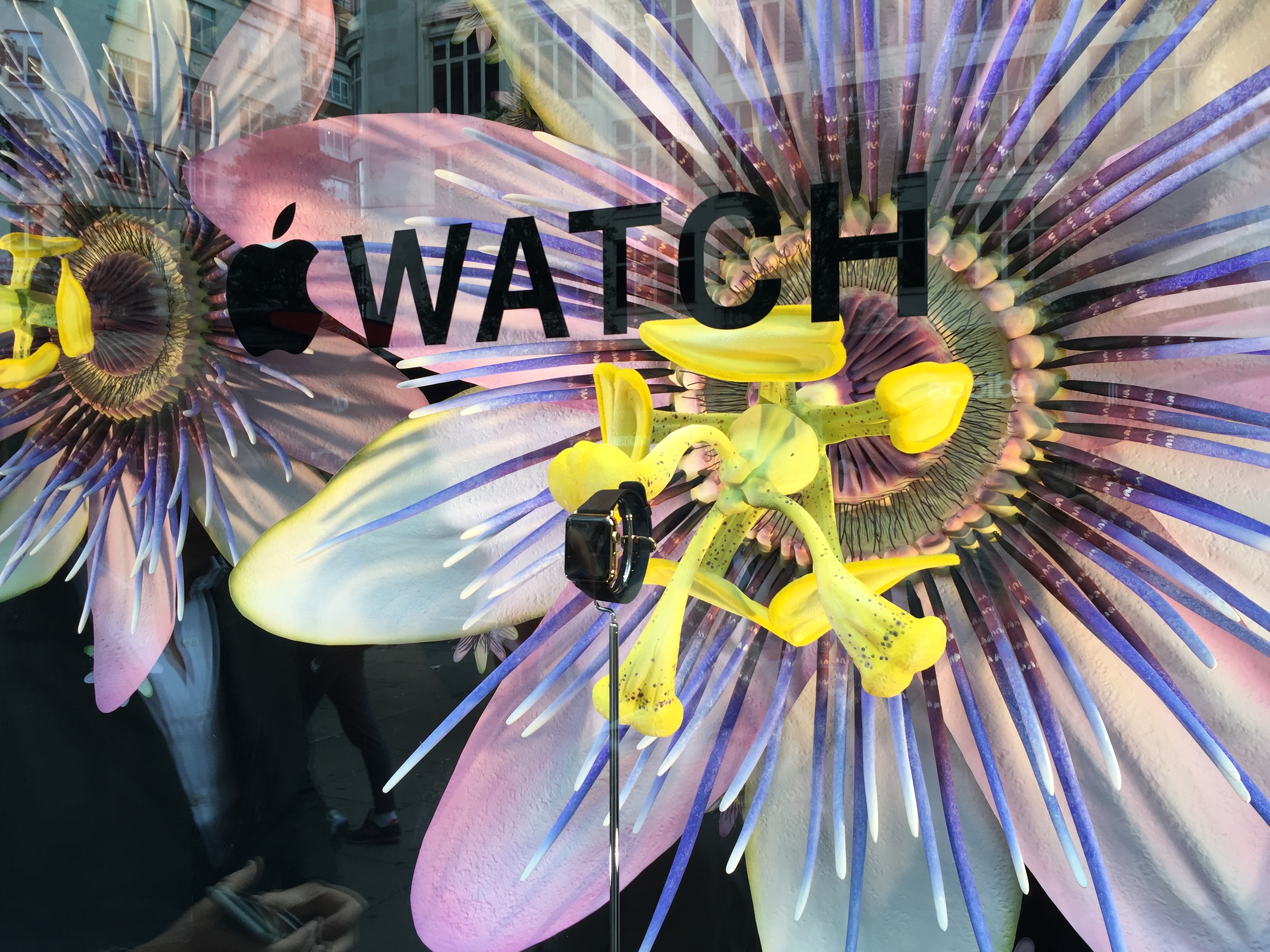 First of all, for two months they let Apple take over their twenty four famous store displays with massive replications of the exact flowers Apple photographed for their Motion watch face. In total they created 24 large, 50 medium-sized, 240 medium-small and 5525 small flowers. All created with a range of different techniques and finished by hand. This was the first time in their 100 year history that a single product took over every single window.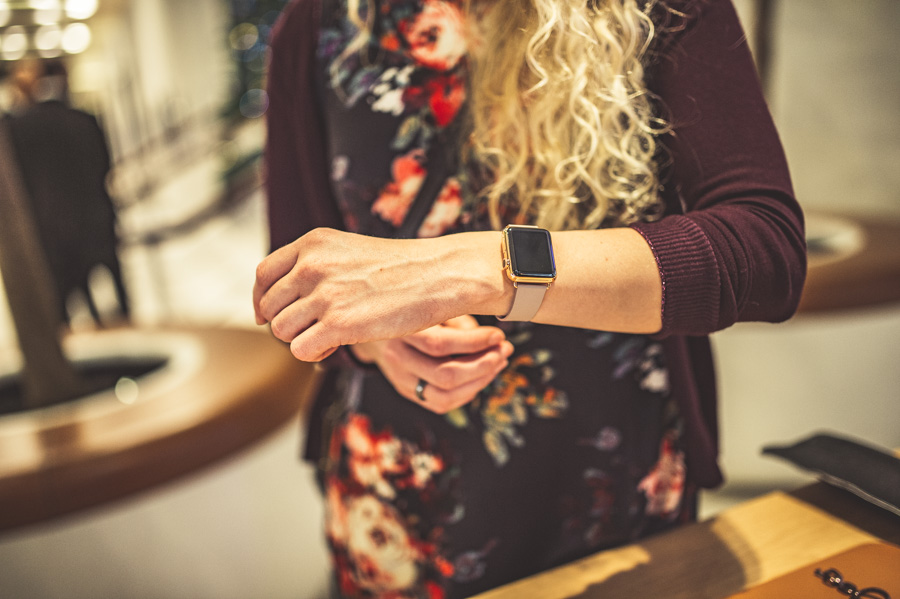 But inside, the magic continues. Unknown to us, the Wonder Room mini-store, staffed by Apple's own, was a glimpse of Apple's future to come. In the center is a massive custom Apple Watch display and fitting table, flanked by ten potted ficus trees with Ferrari-leather clad benches. These trees later where revealed to be part of the new Jony Ive Apple Store design in the new Brussels Apple Store.
As soon as you enter, you'll find that the one-and-a-half ton table is filled with every Apple Watch out there. From the Apple Watch Sport, to the steel versions, or even the exclusive Apple Watch Hermes.
Quite quickly you get approached by a friendly and helpful employee. In our case it was Simon.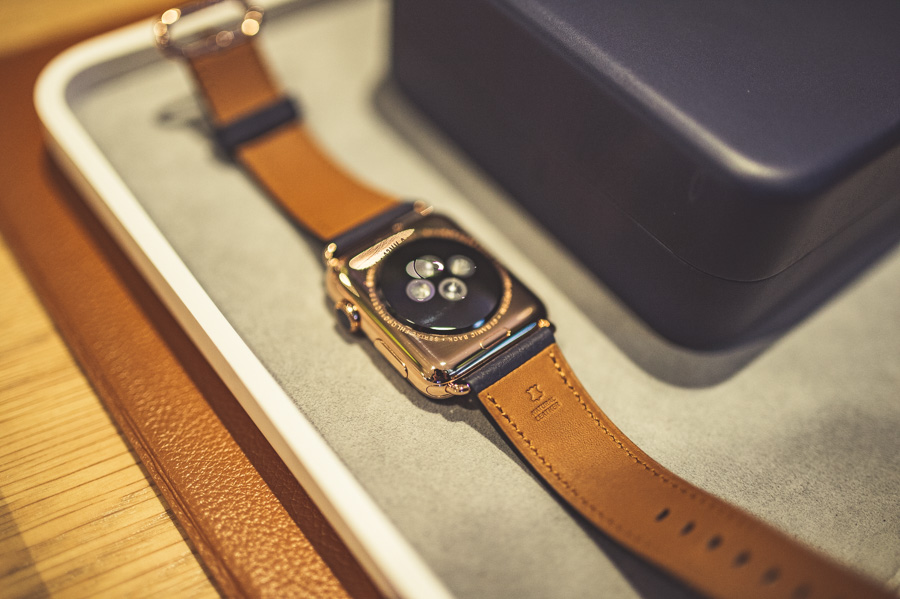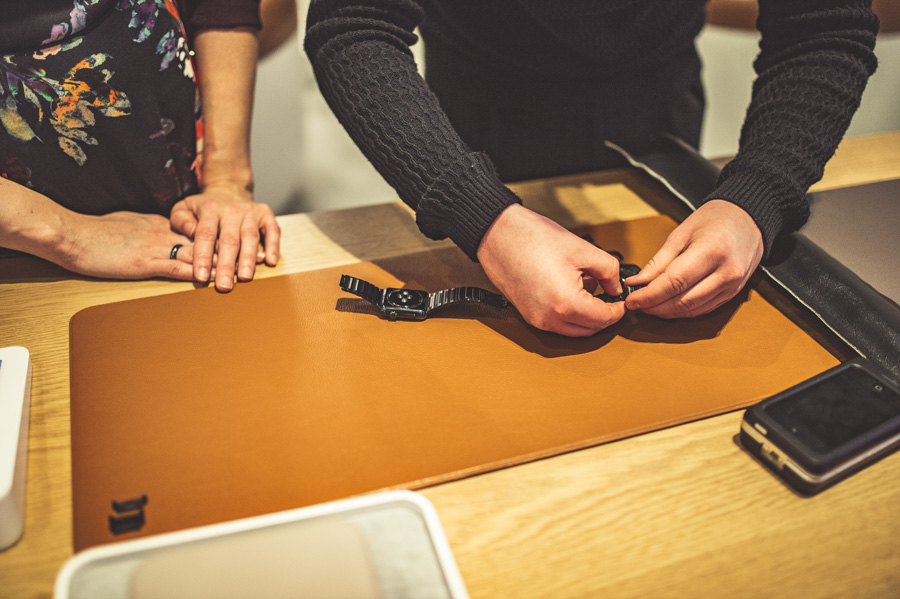 I asked if we could try on some Editions and Hermès watches, on which they gladly obliged. In the early months, you needed a special appointment for this, but now you can just walk in. After a few quick taps on their iPhones, an employee with three trays and luxurious boxes appeared. It was so very subtle, but my photographer eye did catch a glimpse of some big security agents dressed in fine black suits walking around in the background of the mini store. Though I doubt they would be anything but calm and discreet if you tried to run off with that amount of bling on your wrist.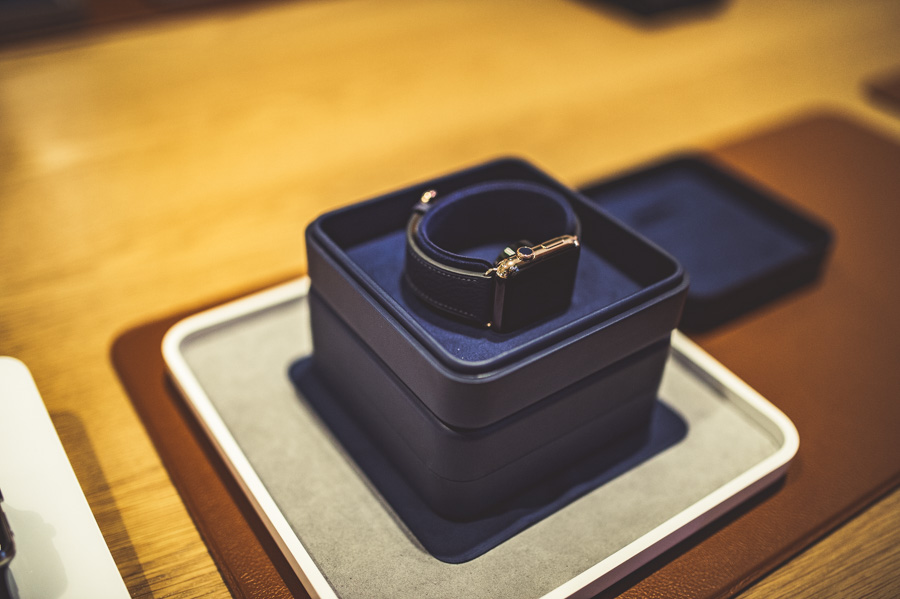 The boxes open, or you can even open them yourselves if they are in a very good mood, and your guide will help you put on the watch. The Watch plays a series of demo screens (including taptic feedback), while you can get a feel for the weight and bands.
On the side of the room is a huge mirror, where you can admire that shiny new watch on your wrist, and convince yourself that spending that much on a watch really is a good idea. (It is!). (No it isn't!) (pick one that applies). And of course, the mirror has a glowing Apple logo.
When you want to try any non-edition watches, the fitting process is much simpler. Hidden on the sides of each of the fitting tables is a hidden drawer. Holding their iPhone Terminal against it unlocks it, with fifteen watches ready for testing. This is often a mix of 42mm and 38mm cases a bad a plethora of bands.  If you have any requests they will gladly help you. In fact, if it isn't in the demo trays they will go into the back room and try to find every combination of watch and band until you are satisfied.
For those wondering about our impressions, here they are:
The Hermès leather feels extremely well and high-end, which is a great combination for the pristine steel of the Apple Watch. The Double Tour, which comes only for 38mm watches is made for smaller wrists as well, as I had troubles getting the loop to close around my own wrist.  If you are one of those that finds the 42mm watch too small, the Cuff will change that. It combines a classic band with a big cuff that still leaves room for the heart monitor to work, and still be able to charge it without taking it out of the cuff.
The different colours look great, with each a different feel as well. The red (capucine) looks especially dapper, if you can pull that look off, that is.
It's also obvious that this little corner is Apple through and through. When I was walking around in Selfridges, checking my Nikon Df for the shots we took, a security guard quite rudely told me not to take any photos, while minutes earlier the Apple Employees even helped me make a shot with 35.700 euro worth of Apple Watches.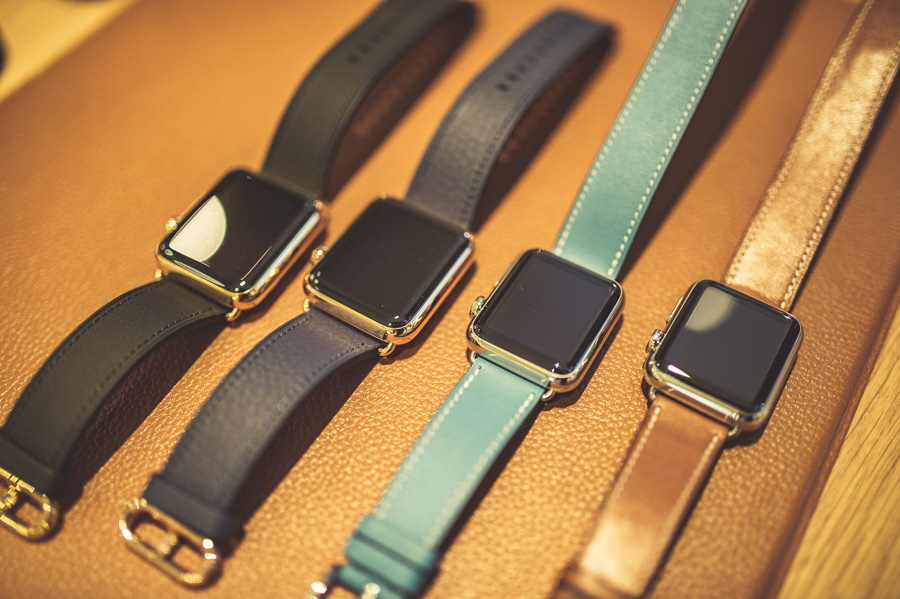 From left to right: 42mm 18-Karat Yellow Gold Case with Black Classic Buckle, 42mm 18-Karat Rose Gold Case with Midnight Blue Classic Buckle, Double Tour 38mm Stainless Steel Case Bleu Jean Leather Band, Double Tour 38mm Stainless Steel Case Fauve Barenia Leather Band.
Carrying a select range of iPhone and Watch accessories, the Apple Watch at Selfridges store managed to be the only shop that had the new Lightning to SD Card adapter. Not that they push you to buy, in fact, they will very patiently offer everyone the personalised experience of trying on an Apple Watch. And gladly geek out over it.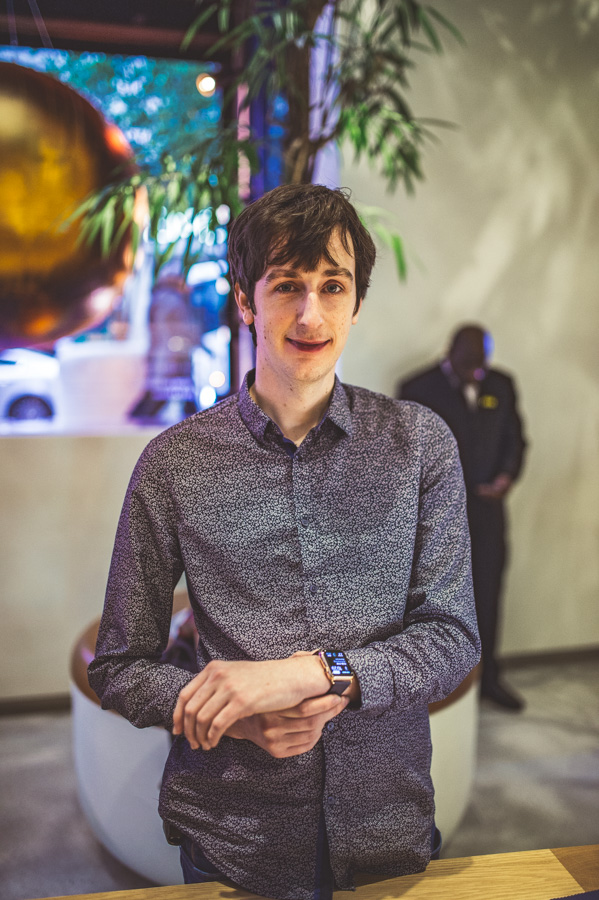 If you ever are in London, be sure to pop into Selfridges's Wonder Room and ask to try on the Editions, it's going to be fun!
Apple Watch at Selfridges is open Monday to Saturday 09:30 am until 08:00 pm. On Sunday from 11:30 am until 06:15 pm.
Flower picture by Thomas Verschoren, Portrait of Kris by An De Cleyn, all other photography by Kris Van de Sande.